I normally don't go for seascapes. Especially a seascape with a sailboat, or worse, a lighthouse. That's not to say I'm not ever attracted to seascapes. I even own a few, though they're older purchases. One of our statement seascapes in particular holds major real estate in my living room—an Anne Packard oil painting. Packard is a prominent Provincetown artist, and while the work is hardly avant garde, it's sedate, skilled, and looks great over the fireplace. Very grown up.
Lately I've been drawn to interiors that showcase statement seascapes that are photographs. Huge ocean vistas hung over a sofa, bed, or dining table that serve as the centerpiece of the room. Perhaps because the weather has been especially dismal in Boston this winter. I certainly like to keep my swimming pool photos in plain sight of my desk. But also, I've noticed that I've been appreciating the ocean more and more as I get older.
Or maybe it's just that waves and beach art are a tad bit trendy. While a seascape (even a statement seascape at times) seems somewhat mundane in terms of subject matter, huge splashes of brilliant cerulean blue and tone-on-tone turquoise is rather appealing. It certainly meshes with my decor. I wonder if I could photograph the ocean in such a way that it could qualify as art. I think I'll walk across the street and try it.
Until I post my own, here are 21 interiors with statement seascapes.
Home of Jeanne Chan of Shop Sweet Things  •  via Houzz
Tori Golub  •  NYC&G  •  Photo by Rick Lew
unidentified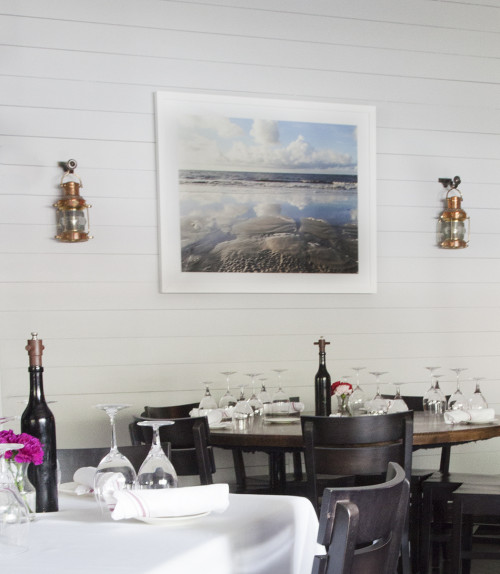 Halyards Restaurant, St. Simons Island, GA
Photo by Sarah Winchester Studios
Interior designer Steven Gambrel's Sag Harbor home
Seascape by Marine Hugonnier
Photo by Simon Upton  •  Elle Decor
The Fat Radish  •  Nicole Franzen
Beach Art by Judith Gigliotti in the home of interior designer Jana Bek
Photo by Erik Melvin  •  Glitter Guide
Mega Bulb pendant by Sofie Refer for &tradition
Home of jewelry designer Meg Shackleton  •  Apartment Therapy
Steven Gambrel  •  Seascape by Marine Hugonnier
Zanotta Lama Chair by Ludovica and Roberto Palomba
Photo by Kara Rosenlund
Photo by Manolo Yllera
unidentified