I put Montage: 54 Living Rooms with Gray Sofas together last summer, but never provided a shopping guide.  I created the roundup when I started to work on my friend Meredith's NYC condo. We did it all remotely, and I haven't even seen it yet, but she recently sent me a photograph.
You can glimpse the edge of the one of the modern gray sofas, the Mitchell Gold + Bob Williams Nicholas sofa.  The turquoise Addison chairs are Jonathan Adler, the tufted wool rug Angela Adams, and the mirrored console, she purchased years ago from Horchow.
I included the furniture scheme for the room, which I also never  posted. In addition,  of course, there are 22 modern gray sofas upholstered in leather, velvet, tweed, flannel and more.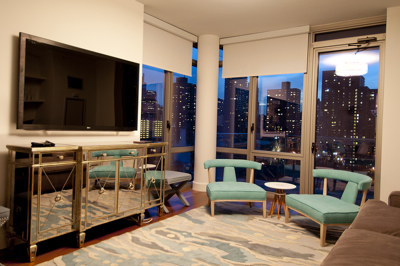 Snapshot of the completed (though un-styled) living room. Love the city view!
And now for your 22 modern gray sofas . . . 
S H O P P I N G
1 Alicia's Sofa, $2,475 at Mitchell Gold+Bob Williams.
2 Brackish Sofa, $3,500 through Coco + Kelly at Dering Hall.
3 Cleveland Leather Sofa, $3,999 at Thrive.
4 Veranda Sofa by Cassina, $4,500 at Compasso, 1st Dibs.
5 Aidan Sofa, $2,199 at Crate & Barrel.
6 Sutton Sofette, now $509—$764 at West Elm.
7 Simone Sofa, $3,255 at Dwell Studio.
8 Karlstad Sofa, $599 at IKEA.
9 Curved Back Sofa, $2,950 at Lawson-Fenning at Dering Hall.
10 Frank Gehry Sofa, $1,300 at Hive.
11 Siena Sofa Bed, now £959.20 at Interior Addict.
12 Lampert Sofa $3,195 at Jonathan Adler.
13 Twilight Sleeper Sofa by Flemming Busk, $2,100 at DWR.
14 Club Grey 3-Seater Sofa, $1,499 at CB2.
15 Oscar Sofa by Matthew Hilton,  $4,650 at Woonwinkle.
16 Panoramic Sofa by Established&Sons, $15,550 at Matter.
17 Neue Sofa by Baker Furniture.
18 Luma Sofa by Modern Outdoor, $4,999 at 2Modern.
19 Raun Retreat, £12,057 at Decorate Shop.
20 Cini Boeri Lounge Sofa by Knoll, $5,935 at Yliving.
21 Wide Arm Sofa by Niels Bendtsen for Bensen, $3,482 at Unica.
22 Spencer Sofa by Gus Modern, $1,999 at Room68.
•            •           •
Sofa styles run the gamut, from low-slung and sleek, to those with wide arms or roll arms. If you really want to get comfy, opt for modular sofas, with corner sofas uk.