I'm trying to come up with a spot in my apartment where I could install one of these super long-armed wall lamps. I'm over the industrial factory look (for my own space anyway). I like the bare bones minimal ones and also the Italian vintage styles from the '50s, though I fear they're a bit on the whimsical side for me.  I think #15 is my favorite. Maybe in the family room, over the sofa? That room could use a little architectural-like interest. It's much more practical than an annoying floor lamp.  Many of these are pricey; the style hasn't been knocked off  in a frenzy by the usual suspects yet, so I didn't really find any truly "low" options.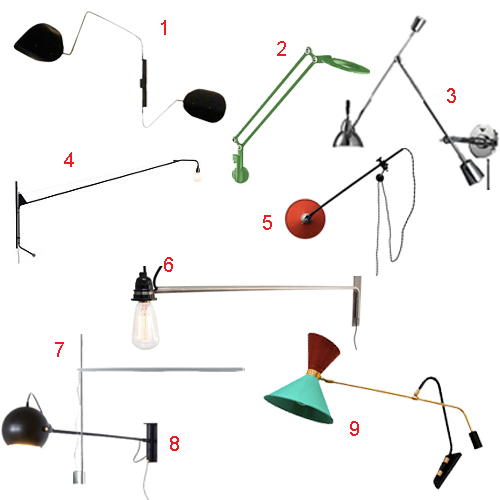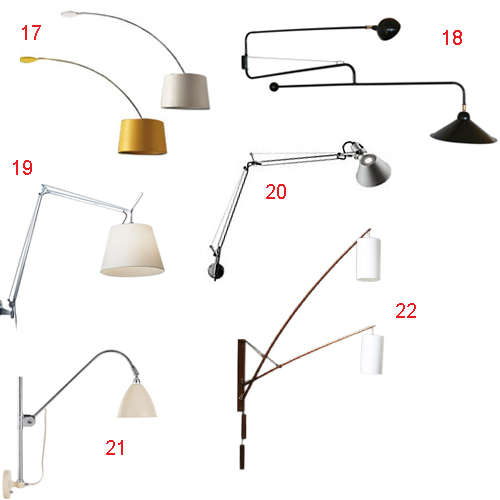 S H O P P I N G 
1. Huge 1950-Inspired Sconces at Antiques MC.
2. Link Small Wall Lamp, $330 at Room & Board.
3. Counterpoise Swing Arm Sconce, $429 at Restoration Hardware.
4. Prouvé Potence by Jean Prouvé + Charlotte Perriand for Vitra, $1720 at DWR.
5. Workstead Wall Lamp, $875 at Workstead.
6. Vintage Swing Arm Lamp, $575 at Addo Novo.
7. Talak Wall Lamp by Neil Poulton by Artemide, $690 at Hive.
8. Deadstock Jib Light by Castor, $1900 at Matter.
9. 1950′s Sconce by Pierre Guariche, $4500 at BG Galleries.
10. Falena Wall Lamp by Alvaro Siza for FontanaArte, $682.20 at Hive.
11. Gooseneck Barn Lamp in Red, $315 at DWR.
12.Array Twin Sconce $2,400 at Siglo Moderno.
13. 265 Wall Lamp by Paolo Rizzatto for Flos, $1295 at DWR.
14. 1950s Stilnovo Articulated Sconce, $7,900 at Modern One.
15. Serge Mouille 2-Arm Sconce by Serge Mouille, $5200 at DWR.
16. Cord Lamp by Brendan Ravenhill, $220 at The Future Perfect.
17. Twiggy Ceiling Lamps by Marc Sadler for Foscarini, $2100 at Hive.
18. French Articulating Double Arm Sconce, $1800 at Orange.
19. Tolomeo Mega by Michele De Lucchi for Artemide, $650 at Hive.
20. Tolomeo by Michele De Lucchi for Artemide, $370 at DWR.
21. BL5 Wall Pendant by Robert Dudley Best, $299.50 at DWR.
22. Danish Teak Double Sconce, $1,938 at Art of Vintage.